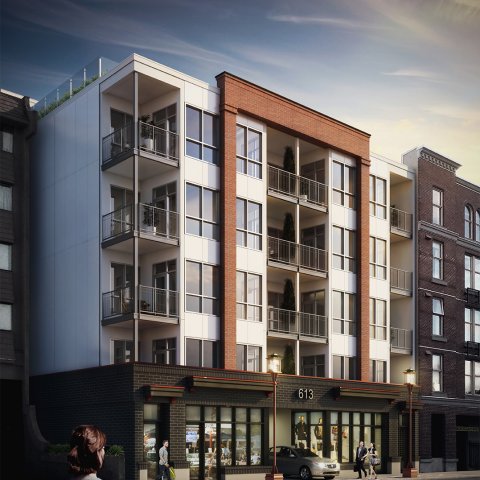 Balancing city living with simplicity
Located in Victoria's downtown, Cityzen is the core's up-and-coming development from local, award-winner builders, Homewood Constructors Ltd. – and it has Millennials and investors abuzz. With price points starting at $289,900, including net GST, floorplans from 510 square feet, and transient zoning, the one-bedroom homes are perfect for first-time home buyers and real estate investors alike.
In the age of AirBNB and VRBO (Vacation Rental By Owner), properties zoned for transient stays (aka short-term rentals) garner the attention of investors, thanks to the simplified legalities of renting your home to vacationers.
"Cities around the world are beginning to limit short-term, holiday rental use of residential properties," says Cityzen developer Conrad Nyren, "so investors should be careful to ensure a prospective property is both zoned for transient use and permitted by the strata corporation."
Cityzen is on top of the game, zoned for transient use to compete as both residential and vacation properties. And with its prime location and efficient design, the homes are a lucrative buy – or rent.
Borrowing from the French concept of pied-à-terre, the condos are designed for city living: compact and efficient, they maximize square footage for the dweller who spends more time on foot, walking the city streets and frequenting their go-to haunts. Each suite includes an independent, secure storage locker and bike storage for those grander, garage-worthy items, while generous windows and a feature lightwell keep hallways and homes light and bright. Finished with wide-plank flooring, quartz countertops, stainless steel appliances and heated tile flooring in the bathrooms, they are both functional and beautiful.
"It's a very modern expression," Nyren says of the façade. "It strongly references the historic architecture of Chinatown." The ground floor of the building is complete with two commercial spaces, perfect for professionals and retail alike.
Soon-to-be tucked in Victoria's Old Town district, Cityzen boasts a Walkscore® of 99. It neighbours Canada's oldest Chinatown and the Victoria Public Market, historical attractions for locals and tourists alike, and it is steps from restaurants, shopping, entertainment and amenities – with a Modo car share for when only four wheels will do.
"Modo is really taking off," Nyren says. "We have a handful of cars in the neighbourhood. You can even find vans and trucks when you need them." Each Cityzen suite comes with a Modo membership that transfers from owner to owner with the property.
Scheduled to complete Spring 2018, Cityzen could be your chance to buy a piece of Victoria's coveted downtown – at an affordable price point.
Learn more: cityzenresidences.ca