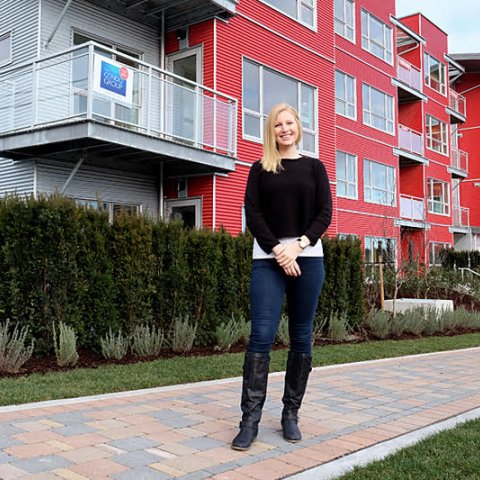 Completion of final phase at Bond's Landing adds to the Railyards community.
Nestled in a quiet area along the Galloping Goose Trail, the RailYards residential development has become a fixture of Victoria's waterfront landscape. It's hard to miss the colourful townhouses and condo buildings as you ride along on your bike, sail by in a water taxi, or cross the Bay Street Bridge. And if you lived here before 2004, you probably remember an actual railyard—which is quite different from what the site has become today. Developer Chris Lefevre notes: "I saw the RailYards as an opportunity to bring back a brownfield site to a place of urban living for a broad sector of the public, and not just a chosen few."
Indeed, over the years, the RailYards development has become home to dozens of families, couples and singles from all walks of life. Beginning with the Selkirk project in 2004, the development has changed the face of this little area in Vic West, turning it into a vibrant and active neighbourhood. The area is bustling with coffee shops, restaurants and even a bike store near the Galloping Goose Trail.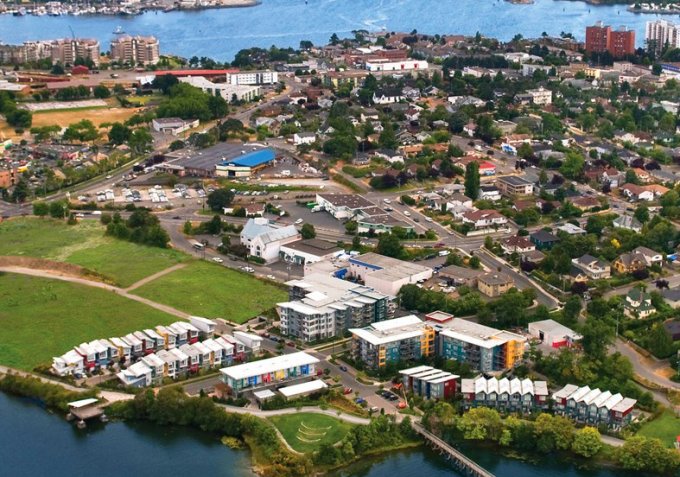 Bond's Landing, a 3-phase condo building development between Tyee Road and Central Spur Road, sold out its first phase in 2012 and second phase in 2014. These modern buildings follow the color scheme of the whole RailYards development; "the use of exterior metals and colourful cement boarding creates a bright, playful palette", Lefevre adds.
This past Saturday, The Condo Group celebrated the grand opening of the third phase of the Bond's Landing development. Featuring 49 homes ranging in size from studios to 2-bed/2-bath condos, Bond's Landing III adds another opportunity to be a part of one of the hippest, greenest neighbourhoods in Victoria. The building features secure parking and bike storage and is pet-friendly, a definite plus in Victoria's condo market. Tiara Pettinger, new owner of a Bond's Landing III unit, comments: "I have a corner unit with great sun exposure, and a patio that will be ideal for the summer. I love the open concept of the condo."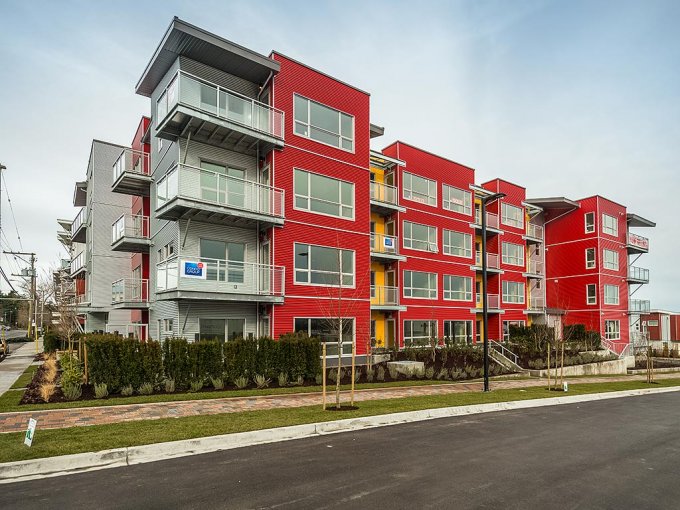 "Living at the RailYards gives you a healthy, walkable lifestyle on the active waterfront of our city", says Lefevre. Situated on the edge of the inner harbour, right next to the Selkirk Trestle, Bond's Landing III gives you access to the water via a small craft launch pier, to Victoria's extensive bike trail network via the Galloping Goose, and to all the amenities, restaurants and shops of nearby Westside Village and the Selkirk area across the water. Downtown is a short walk, bike ride or bus ride away.
Everything nearby encourages living more healthy and green. "I can't wait to have running/biking/rollerblade paths right in front me!" Pettinger says. "The dock is perfect for launching my paddleboard or doing some morning yoga. I try to live as environmentally conscious as possible so having less reliance on my vehicle and having gardening options will help in those efforts."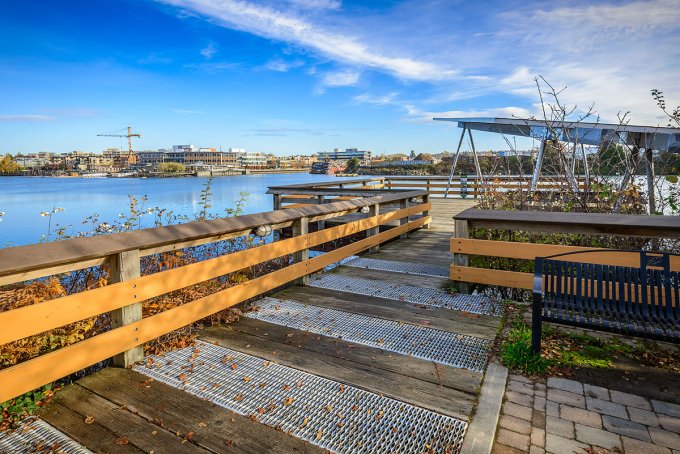 "I chose Bond's Landing for the community feel, closeness to shops, and accessibility to an active lifestyle. I commute for work so I love the idea of coming home and not needing my car again!" says Pettinger. "I am really excited to live in a community that is so close to the downtown core yet integrated into the natural landscape of the water and walking trails. The community seems very young as well, so being a young single adult, I don't think I will feel so alone. People are always out and about walking their dogs and strollers."
As for the future? Chris Lefevre gives us a glimpse: "The final developments of the RailYards will feature three consecutive buildings with a little less colour and more prominent features so as to 'bookend' the site."